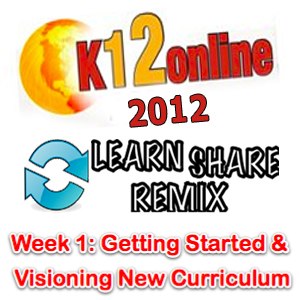 The first week of the k12online conference has been completed. WOW!  This is a wonderful conference that connects with those who are "Getting Started" to those who are "Kicking Up a Notch." I got involved with k12online three years ago and it is incredible group of educators, showing their projects and discussing their thoughts about using technology seamlessly in the classroom or in an educational setting. Many of the presenters are classroom teachers who work with students innovating and creating stunning projects and allowing students to have an authentic voice.
I was so excited to see the Karyn Keenan presenting "A Digital Journey with Primary Students and No Budget!"  Last year through twitter, @karynteaches put out a tweet for anyone in the Chicago to come and mentor her. She is a young educator and welcomed anyone to her classroom. Well, I jumped at the chance to see her is action, since I saw her posts of her student work through twitter.
In Karyn's class, technology is transparent, not separate class or time. Seeing second graders blog and using voicethread was truly inspirational. If you are just getting started in the world of blogging and are interested in getting your student's authentic voice be heard, take a look at Karyn's wonderful presentation.
Kevin Honeycutt was the Keynote speaker for k12online conference and there is one more week of presentations going up next week, with a thread involving "Student Voices." . Thanks to all the organizers and presenters, what a wonderful group of educators from across the world.