T
wo years ago I was approached to host a podcast show on the edreach.us. Brenda Muench, Jennifer Kolze, and I had done some podcasts and "chats," but when Daniel Rezac put out an invitation to start an arts-based podcast I JUMPED at the chance. aRTS Roundtable was born. He suggested that we talk to Tricia Fuglestad. Little did I know how much this connection would change my life and the way I view the arts as a palate of colors with sound, video, and pictures.
Tricia Fugelstad is a kindergarten through fifth grade art teacher in the northern suburbs of Chicago. She is innovative, takes risks, empowers her students, and views her art classroom as "yes and …"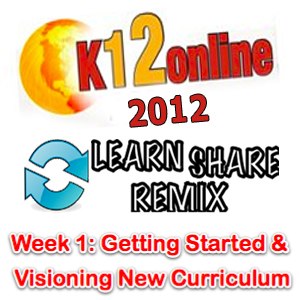 I suggested that she take part in the k12online conference, little did she know it was purely selfish on my part. I wanted to see and hear all the things she was doing!  Her presentation, Teaching Art in a Technology Rich and Connected Classroom, was incredible with all the opportunities she gives her students to connect with others across the world. The arts are the connection to the soul and to see how she does this is like watching a young Picasso paint.
My learning since twitter has progressed to 24/7 in my world: edcamps, conferences, and conference hashtags. Last Saturday, November 3, 2012 I helped organize a small conference directed at Special Education and Technology www.setconnections.org I created a youtube video to introduce the concept to attendees.
The SPUN conference was headed by James Gubbins, who in turn had Don Goble present virtually on Google+  as the Keynote speaker. Here is the google site of all the resources presented at the unconference – https://sites.google.com/site/2012spun/
While watching his presentation about video production, up came a small segment of one of Tricia's videos her students created. I tweeted it out with her name and the hashtag #SPUN12. She was at the Illinois Art Education Association Conference and saw the tweet. She then wrote a blogpost about it. That hashtag at the end of the day reached over 7,000 people.
We live in a connection world. We need to give ourselves and the students we teach every possible way of connecting the world, especially in the arts. This is who we are.
The amazing part of the this entire story is that EVERYONE of the people I mentioned I met virtually on twitter before I met them in person. The power of these connections are a testament to those who ARE life-long learners that CONTRIBUTE. It's is so simple, it starts, with ONE tweet and a hashtag.
You can hear the aRTs Roundtable discussion on "Presenting at Conferences, YOU Can Do IT!," with Tricia, Jen, and I, just click here.
K12online presentations
http://k12onlineconference.org/?page_id=1091
Tricia Fuglestad's presentation "Teaching in a Technology Rich and Connected Classroom http://k12onlineconference.org/?p=1094
Tricia Fuglestad's blogpost http://drydenart.weebly.com/1/post/2012/11/some-fuglefun-at-spun12.html
SET Connections http://setconnections.org/
Opening video about SET Connections http://www.youtube.com/watch?v=XG2LAyGAm1E&feature=youtu.be
SPUN google site of resources https://sites.google.com/site/2012spun/