I have a yearly doctor's appointment and it is always the dreaded "scale" that I obsess about. Each year, I vow THIS is the year I will lose the weight.  Every year I tend to gain three to four pounds, then add that up over twenty years it is around forty to fifty pounds. My doctor has been nice and each year we only talk briefly about my weight.
So, this year I decided to  "attack" on my weight. I told him, "I know I have been gaining weight, I am completely disgusted with myself. I WILL lose the weight." That was November 26, 2012. I tried for twelve days to lose it on my own terms. Well, I failed. I needed  "digital" reminders, to keep myself honest. I  had to use TECH to lose the weight.
It's simple to say I joined Jenny Craig, which I did. This is NOT about the program, it is about how I am using technology to lose weight.
First, the body media monitor and website (food)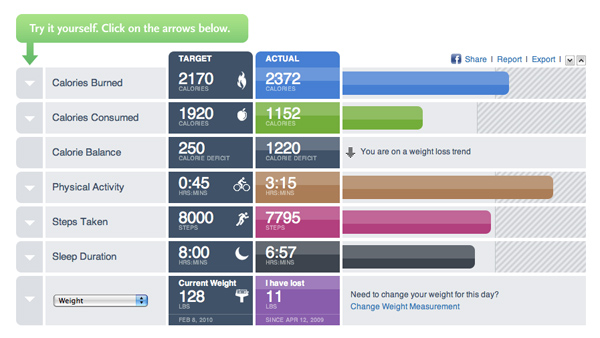 I needed to have a monitor that would monitor my food, sleep, and activity. I am using the bodymedia. I strap it on and off I go! It connects to my personal page. This is not my data, I'm still too embarrassed to tell people how much I really weigh. But it charts everything. If I had known there was a wifi version I would have purchased that one. I now have to plug it into my computer to update the data. You can also hide it in your bra, but having it on my arm is easy to get to and upload the data during the day.
Second, the scale
I have a wifi scale that timestamps my weight. I cannot cheat or tell myself I didn't weigh myself. I have to manually add my weight to the bodymedia website, but it's like a sense of accomplishment when I can put a lower amount in. My body goes up a little then down, however, each week I have lost weight when I weigh-in. The http://www.withings.com/  scale also has an app, that keeps track of a variety of things, such as sleep, weight, and activity. I do not use the heart portion of the app since I don't want a third monitor on my blood pressure.
Third, the heart-monitor app
The wifi scale is connected with wahoofitness app, so I strap on the heart-rate monitor during my exercise so I can keep my heart-rate up in the "speed/power" level. (I'm even competitive with myself!) It uploads to Runkeeper, Garmin Connect, dailymile, and Dropbox. You can even email the file to your doctor or yourself. I have an nike+ account, but since they don't talk to each other, I'm using my old "daily mile' account, without the miles. Yes, I wear TWO monitors when I exercise. The way to all good things is to be completely honest and using this app does that for me.
Fourth, exercise
I basically use the elliptical at my local Health Club. I get up at 4:40am, at the club by 5:00am, on the machine by 5:05am, since must leave at 5:45 to shower, eat, and leave my house by 6:42 to get the 7:01 train to the city. It's all about a schedule, a routine. Once I'm in the city, I take a brisk one-mile walk to the office. During the day, I walk seven flights of stairs up and down to get my 10,000 steps in a day. I do some of the classes on the weekends and have an extended forty-five minute workout on one of the machines.
Fifth, music. You all knew it came to this!
Music pushes me to work hard when I workout.  (i.e. fast tempo) SO, I use the Olympic Dreams China 2008. I tried to find it on iTunes, but here it is on amazon.  http://www.amazon.co.uk/Olympic-Dreams/dp/B001UF71ME I love the fast tempo and the variety of musical styles. I actually "dance" on the elliptical. Being a former music teacher, I had to have music be the center of my exercise. I have a big library of music, but when I exercise I am extremely picky about the style and rhythm of the music. I have to stay on the beat, so simple rock music does not work. It has to be interesting and a positive message. This fits and works!
This is fine. 
this is fine
Sixth, support
Steve Dembo started a Facebook page called fit42. To hear the stories of others doing the same thing I am doing is inspiring and by posting my own results makes me accountable to others. My journey needs a social component, this is a perfect fit.
In conclusion
Since November 26 I am down eighteen pounds, with twenty-seven pounds to go. I'd like to lose forty-five pounds in total. I'll update once I hit my half-way point which should in in three to four weeks. (Can you tell how PUMPED I am?)